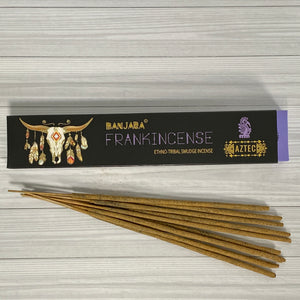 The Banjara range of incense is unique. Robert was looking for a more convenient way of working with things like white sage, or frankincense and found these incense sticks. Each one has the raw ingredient right there on the stick and carries the aroma and energy of those.
The fragrances are great and the packaging includes insightful information. This incense is handcrafted, eco-friendly and ethically produced in India.
Each packet contains approximately 10 sticks.
Size: Each stick is approximately 23cm (total length) and has a burn time of roughly 65 minutes. Exact burn time can vary depending on a number of factors, and your burn time may be a bit longer or a bit shorter.